A leading B2B review platform recently granted BulkSignature a coveted industry award, recognizing its excellent performance in the email marketing software category.
CompareCamp, one of the most well-known and respected sources for comprehensive B2B SaaS reviews, recently lauded BulkSignature as one of the best email marketing platforms this year. In addition, the software review platform presented BulkSignature with a Rising Star Award, an accolade typically given to brands that have earned positive comments and growing followers on social media. 
Software specialists from CompareCamp also authored a detailed BulkSignature review and concluded that it drastically simplifies email signature management process, enhancing efficiency and guaranteeing security, precision, and consistency. It was also discovered that the solution serves a wide range of users, such as enterprises, small businesses, non-profit organizations, and corporations engaged in frequent high-volume email communication, delivering advantages to companies across various industries.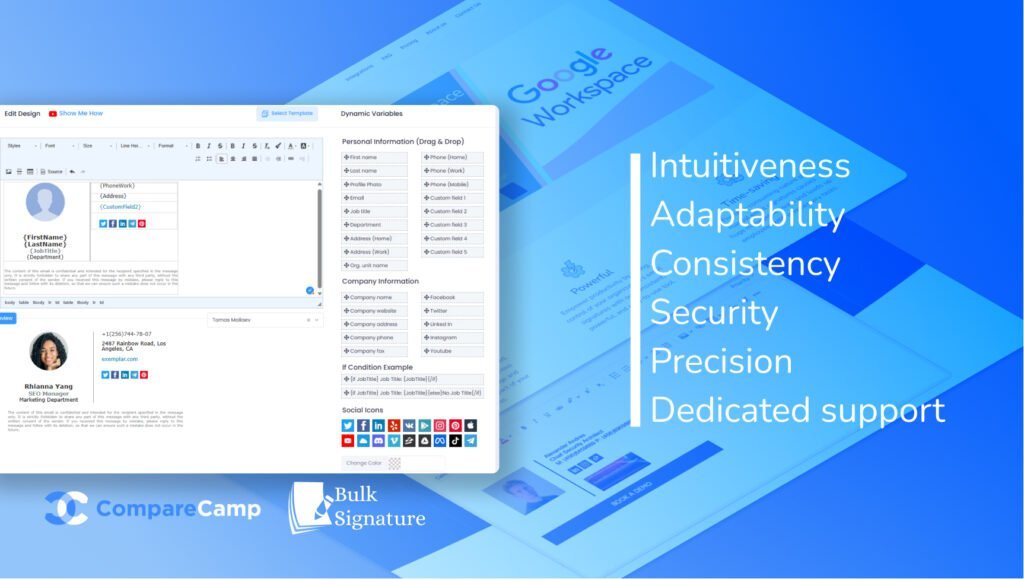 In their report, CompareCamp software reviewers commended our platform's intuitiveness and adaptability. Among the features they praised are our Google Workspace integration, signature creation and management, and dedicated support. 
The review highlighted how the tool offers smooth integration with Google Workspace, allowing users to readily access and utilize the software within their existing Google Workspace environment. This integration minimizes the need for additional logins or sophisticated setups, streamlining email signature management process.
Additionally, the solution can seamlessly create and manage email signatures, ensuring a smooth and efficient email communication. The platform provides robust tools for creating tailored email signatures, letting users customize their email identity according to their preferences or brand requirements. Moreover, the software facilitates the straightforward management of signatures, enabling users to store and organize them safely for future use.
Besides those mentioned, the real-time updates feature in BulkSignature lets you import users and update signatures immediately. The system guarantees reliable and smooth operations for all updates. You can quickly manage your user list by removing or adding users, ensuring your email signature database is always up to date.
In addition, the tool sees to it that changes to user profiles and signatures take effect instantly, avoiding inconsistencies or delays. This feature ensures that your user data and signature records are consistently synchronized, enabling seamless and efficient email communication.
Furthermore, the review mentioned BulkSignature's dedicated support to its customers. Whether it's troubleshooting technical issues, guiding users in navigating the platform effectively, or addressing any questions, the support team is ready to assist users. This level of support ensures that users have a reliable resource to rely on, reinforcing their overall experience and satisfaction with the software. 
BulkSignature expresses our sincere gratitude to CompareCamp for this esteemed recognition, which serves as a strong motivation for us to continually enhance our email marketing solutions. 
We also extend our appreciation to the teams that have trusted us with their email signature requirements. Rest assured that we remain committed to delivering premium services and features, aiming to enhance your satisfaction and overall experience with our products. We eagerly anticipate many more years of fruitful collaboration with you.