Email signatures are more than just a way to sign off your messages. They are also powerful marketing tools that can help you promote your brand, increase your reach, and generate leads. However, creating and managing email signatures for every employee in your organization can be a daunting task. That's why you need email signature software.
Email signature software is a tool that allows users to create and manage professional-looking signatures for their email messages. BulkSignature integrates with Google Workspace to ensure consistency and compliance across your email communications.
Email signature software typically provides templates, fonts, colors, and other elements that can be customized to suit your preferences and brand identity. You can manage an infinite number of signatures of all employees in the blink of an eye.
Update email signatures conveniently
The manual approach to updating email signatures is possible, but full of trouble. For instance, you might be able to manually design an email signature yourself, create the list of instructions, and send it to all the users across your company. Then, it usually takes time until all the employees in your company figure out how to properly set it all up.
On the other hand, it's possible for you to assign system administrators who will take care of all the installation procedures. However, it is obvious that the larger your company – the more time it will take. On top of that, each time your marketing department updates the promotional content, you'll have to start the cycle over again.
If you want to update the email signatures of your employees conveniently, you need a solution that is easy to use, secure and compliant. With email signature management software like BulkSignature, you can create and manage professional email signatures for your entire organization using only one tool.
You can use a great number of templates, customize them with your logo, social media links and contact details, and apply them to all or selected users with a few clicks. However, in order to professionally organize your email signatures, you will have to follow some of the best practices.
You can also track the performance of your email signatures with analytics and reports, just by building an analytics link and attaching it to the banners of the email signatures. 
Get control over email signatures
Another significant value, which you get from email signature management apps, is their ability to have full control over which versions of signatures belong to groups of employees. This feature provides you with the ability to assign specific email signatures for specific departments, regions, etc.
Apart from the general control over the email signatures of your employees, you also get the option of enabling marketing features. With this level of control, you will be able to implement your business goals immediately without any external actions from your employees.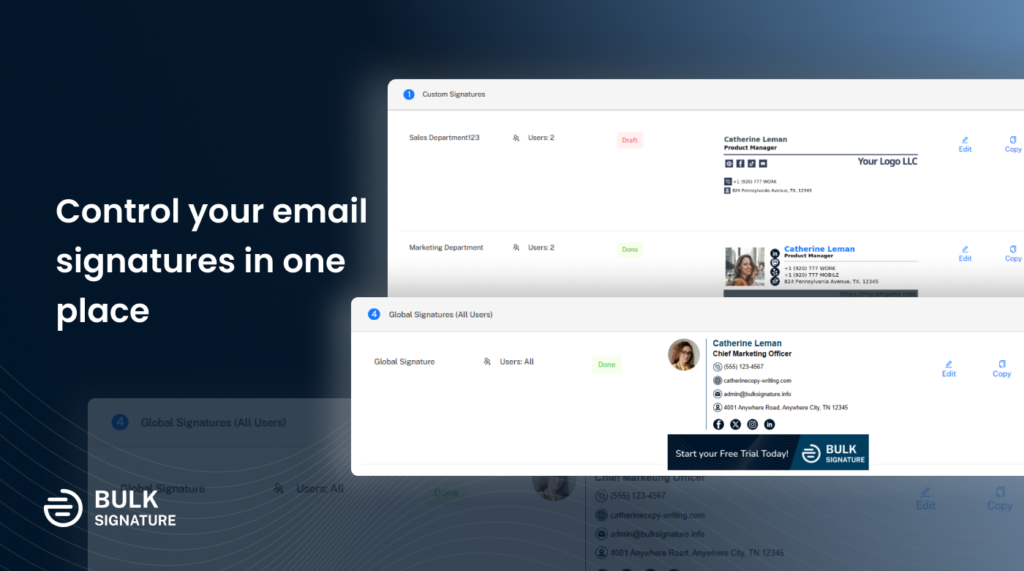 You need to understand that there are always people who believe their own design is better than the official template. In the attempt to improve the visual aspect of the official template, they will change essential parts of the official email signature. Thus, making the end result look like something far from the original. Even if they keep the original format, you still invite another group that has control over the public image of your company.
That is why the majority of companies resort to the use of email signature software. The email signature software unifies the control in one hand. In other words, the specific employees perform all the adjustments and modifications.
Ensure consistency of your email signatures
The number of potential issues that come up in the process of manual email signature installation can range from spelling mistakes to misleading or even non-functioning links. In the majority of cases, IT admins may not spot a good number of errors the HTML code of the email signatures. On top of that, constant manual copying and pasting can also result in potential mistakes.
Here's why email signature management software comes in handy. Most of the email signature solutions provide their users with the ability to preview the details and quickly update anything from phone number to department.
Email signature management tools allow you to create and manage email signatures centrally. This way, you can ensure that all users have the same format, style, and content in their email signatures.
Be flexible – change all email signatures at once
You might've heard that email signature management software is considered one of the most effective marketing tools. The main marketing feature of email signatures is connected with the ability to use call-to-action banners. At the same time, marketing is always about constant changes and adjustments.
In the search for the perfect approach to the target audience, companies continuously change strategies and rely on different ways of their product promotion. Thus, the ability to quickly implement these kinds of changes in the company-wide email signatures at one place is another advantage of email signature software. You can upload all the data about you, your business and your employees as CSV-file, thus allowing you to update the confirmed information about your employees in bulk.
Timely changes that are provided by the email signature management tools can affect a great range of marketing activities. The campaigns that need time-based implementation no longer require other groups of employees, and you can perform them immediately. In most cases, it has to do with outdated templates or irrelevant banners. This sort of shortcoming has a serious impact on your business and makes you look unprofessional.
In other cases, you might also face trouble with the process of business details change. You want to change them immediately throughout your whole company. With the help of an email signature management tool, you simply change the data you need, and the solution updates all the email signatures in your company.
Gather relevant data for your business
With rapid development of digital marketing channels, you get far more options to get insights about your customers. Email signatures are an efficient way to provide contact information, promote your brand, and drive traffic to your website. But it is not only about it, you can also use email signatures as data gathering tool from your email recipients. Here are some of the ways you can implement that: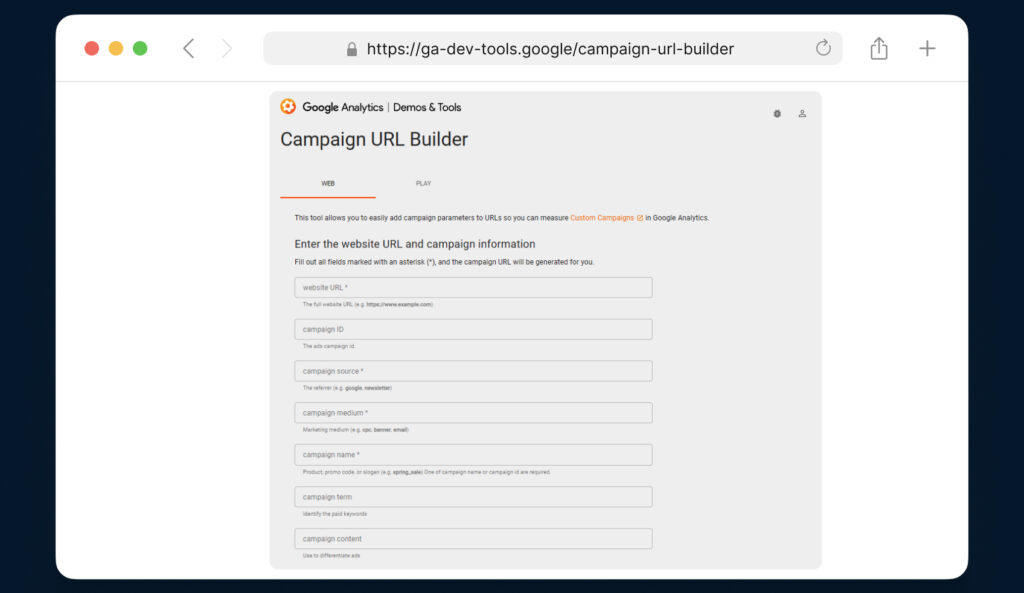 2. Don't forget to use images or icons to attract attention and encourage engagement. You can add logos, photos, banners, or badges to your email signature and link them to different pages or forms on your website. You can also use tracking links to collect data on which images get the most clicks.  Designing email signatures is a complicated task that requires time and consideration. By following the best practices, you will be able to unlock their full potential!
3. Use surveys or feedback forms to ask for opinions, suggestions, or ratings from your email recipients. You can use tools like Google Forms, Typeform or SurveyMonkey to create and embed these forms in your email signature. You can also offer incentives like discounts or freebies for completing the surveys.
Using email signatures to gather data can help you improve your marketing strategy, customer service, and product development. Even though this approach to data gathering might seem very effective, you should always keep it legal and ethical. 
Respect the privacy and preferences of your email recipients. Make sure you don't collect any personal or sensitive data without the consent of your customers. Another thing to keep in mind is that you don't spam them with unwanted emails or offers. Follow the laws and regulations of your country regarding data protection and electronic communication.
Save on proper email signature management and updates
The advantage of email signature software is about saving your company's budget. The amount of time that an ordinary IT admin wastes on all the email signature installation procedures is significant.
Email signature management software can help you automate this process and ensure that your email signatures comply with your brand standards, legal requirements, and marketing goals. The ability to apply email signatures to all the users in your company in a very short period of time can significantly reduce labor costs and save the time of IT staff.
You can't achieve anything through the email signature channel if you can't control it. If one responsible team doesn't have overall control over email signature management, costs will be more prevalent than ever. 
Where control is lost, costs are always found. Therefore, it is important to choose an email signature management solution that integrates with your email platform and allows you to centrally design, assign, and update email signatures for different groups and scenarios. Overall control enables cost-effective implementation of marketing strategies and total accuracy in terms of details.
Email signature software solutions save your time and resources. It helps you centralize and automate the whole email signature management process by allowing you to implement company-wide changes in a short amount of time.
Centralized and consistent control over email signatures prevents errors from occurring. All the data about you, your business and your employees are uploaded as CSV-file, thus allowing you to update the confirmed information about your employees in bulk.
Email signatures can be turned into a valuable marketing channel with the help of email signature software. The results and efficiency of your marketing campaigns can be tracked and measured by means of gathering relevant analytical data.
Flexibility of your email signatures. Depending on the campaign your company is busy with, you can swiftly change the appearance of your email signatures with just a couple of clicks.
Email signature software can save your budget. The procedures that are usually performed by IT admins are completed with only a few clicks by means of email signature software.