In the process of going through your email, you might've noticed thousands of professional looking email signatures. They usually look like blocks at the end of the emails that enlist the information about the sender.
An email signature is the point that reflects your business, that's why it is of great importance for your success. Essential parts of an email signature include company logo, name, social media icons, in some cases it may include a call-to-action banner.
In this article, we will show you how to properly organize your email signatures. When performed accurately, you will be able to build rapport with your clients and accomplish your business goals with every email you send.
Interested in making a company-wide professional looking email signature? Start free trial today!
1. What a professional email signature should have
In the world of modern business, email signatures practically replaced business cards. Not using it may be considered a missed opportunity. Email signatures help you present yourself in a professional and sophisticated way and provide the recipient with key information about you, including:
Personal photo/company logo (sometimes both can be used)
Personal and business details
Contact information
Social media icons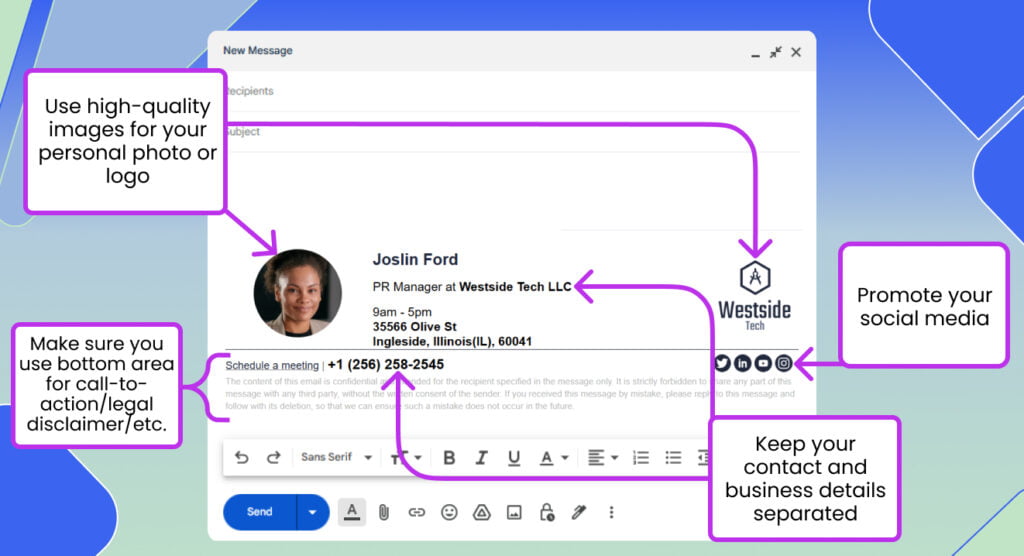 In some cases, it might also include:
Your work schedule, so that the recipient knows when they can reach out to you
Your office's address
Your website
Relevant links, in the form of a call-to-action banner
In the process of building your own email signature, you should not neglect clear wording and readability. You don't want the recipients to struggle with the meaning of your position or misleading titles. Try to be as clear as possible!
2. How to emphasize contact and business details in your email signature
The headline of a professional email signature should definitely be your name that is followed by your affiliation, which is usually your job title, your company, etc. To highlight the name of your company and get the attention of recipients, you can add a logo.
Further, you should include your contact details – it can be your contact phone number, your website, your office address, in some cases it is even possible to add your email once again so that it's easier for a recipient to copy it, however most of the time the reply button will do.
In order to highlight the abovementioned information, it's important to use the icons for better visibility. Another option is to use first letters, which are less visual, but the idea is clear (t – telephone number; m – mobile phone number; e – email address; etc.)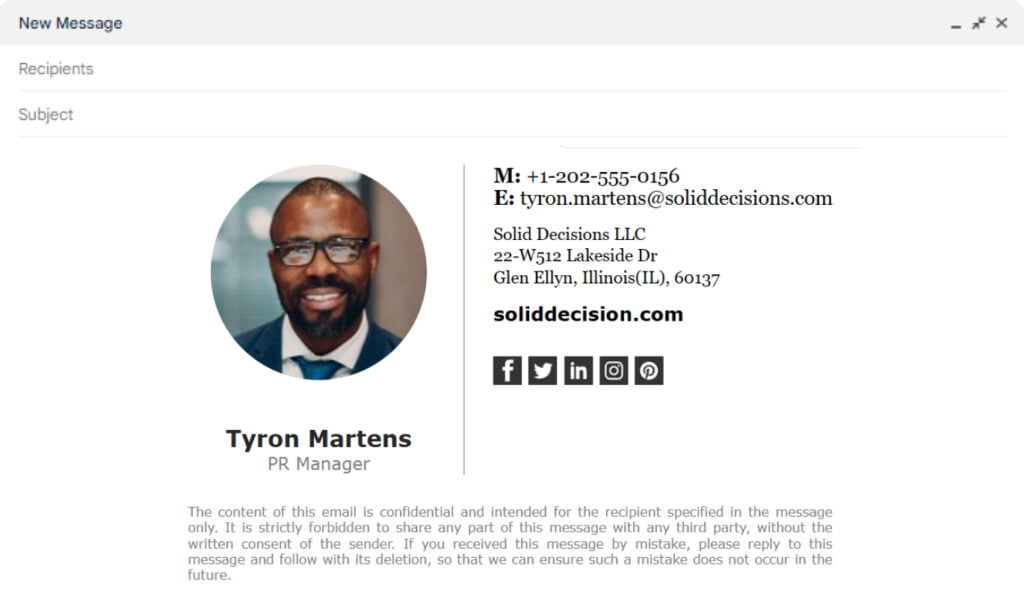 Dos and don'ts of presenting your contact details in your email signature:
Get rid of unnecessary information. It's better to be concise and exclude the email address in our email signature, since the reader may use the reply button. Keep in mind, there is no need to add three different phone numbers, only one relevant number that leads to you will be much more than enough.
Be sure the links you add are relevant for the recipient. Add a hyperlink to your website, social media, etc. only if you are sure the recipient will be interested in it.
Be careful with what number you include in your signature. Make sure that the number you added is the one you actively use. If you are not interested in receiving phone calls, don't add it. If you do not deliver what you promised, why bother promising?
Make sure the contact details you add belong to you. There are cases when people prefer to add third-party calling services instead of their real contact details. Thus, it unknowingly results in reputational damage.
Be consistent in terms of colors. Make sure your social media icons match your logo and overall design.
Don't forget to include international prefix in your contact number. Most of the businesses operate around the world nowadays. Thus, in order to prevent your international colleagues from potential issues related to misdialing your contact number, make sure your number has an international prefix.
Make your email signature mobile friendly. Each day more and more professionals prefer to open emails on their phones. That's why you have to make your signature design intuitive and easy to read for mobile users. You must pay attention to the scale of your signature – make sure the size of your text, links, and buttons are large enough for a mobile screen.
3. Image, logo? Or use both?
Even though your email signature section is not the first thing that your clients and colleagues see, your image and logo are still the most memorable parts of it. Your image and logo are the face of your company. And that shouldn't be a big surprise for you, our brain tends to capture visual content much easier than text. That's why you should really focus on how to make your logo and image as attractive as possible.
So, what should you do to make your image attractive?
Smile! Smile! Smile! A smiling face is a very simple and straightforward thing that improves your image a lot.  However, it may not be as simple as it seems. The most important thing is to make your smile friendly and natural.
Try not to overdo it – it may result in making it look fake. If you struggle to make a smiling face, you can try lowering your chin. It's been proven that it makes your face look friendlier than if you're posing with your chin raised.
Quality is always important. For most of the users online, low-quality is associated with spammy content, that's why you should always think about it. And, as always, keep in mind – you mustn't overdo it. You don't want your clients to waste their time downloading your signature content.
Make sure you crop your images properly. The safest way would be to use proportions 250×250.
Don't underestimate your background! Consider blurring it or using a plain, contrasting background that highlights your face.
What about your company's logo? The best possible solution would be to create a separate section for it. You can also create a GIF with your company's logo and your image. Using a GIF might be considered a better option since it ensures efficient use of limited signature space. However, keep in mind that the use of any animations might be dragging too much attention and seem distracting to recipients, that's why most of the professionals tend to stick to either their image or company logo.
4. Your email signature has a marketing intent? Don't forget to use call to action (CTA)!
Another important thing that is commonly considered essential in email signatures is a call-to-action banner, which is primarily used for marketing purposes, also known as ESM (email signature marketing).
ESM is considered to be one of the most efficient B2B marketing tactics. The tactic implies enabling clickable call-to-actions (CTAs). You might be wondering what CTA (call-to-action) is. It is basically an invitation to your potential clients who are interested in your services. Apart from that, these banners might be employed for showcasing the products, content, and simply driving traffic to the products/services you're trying to promote.
For marketing specialists, the ability to gather analytic data might be of good use. By building a campaign URL and attaching the link to your banner, you will be able to gather all the necessary data you need.
Keep in mind, the appearance of your banners may look whatever you want! You can either use eye-catching GIFs or plain images with straightforward messages, videos or Instagram posts – you name it!
What if I don't need CTA banners?
Alternatively, if your email doesn't have a marketing intent, you can complete the section with booking links, industry disclaimer or legal requirements.
Apart from that, booking links, for instance, might be of good use if you find yourself in the situation when your colleagues are always looking to book a meeting with you. You'll facilitate the whole process simply by letting your colleagues or clients access your calendar in your email signature. On the one hand, you might want to use such a tool as Calendly. It is considered to be a basic free tool that is integrated with Google or Office 365 calendar. On the other hand, you can use another popular tool, YouCanBook.Me. However, to use YouCanBook.Me you'll have to get a monthly subscription for $7.
Aside from booking links, you can use the section for industry disclaimers or legal requirements. If you belong to legal, financial, and insurance industries you might have heard of specific guidelines on email usage. The idea of these guidelines lies in private information preservation from being transmitted. That's why, you might want to check up on your industry regulations and include a disclaimer in your signature about email transmission.
5. Why you need social media icons.
Similarly, social media icons are a basic way of improving your email signature from both visual and business perspectives. You can't imagine a good-looking email signature example without any social media icons, can you?
Then again, in order to develop your personal brand, you're definitely supposed to have social media presence. On top of that, it helps your clients to gain more knowledge about you and what you care about.
In the modern world, people can tell a lot about you just by seeing your posts. Your social media is your portrait. Your social media helps your clients humanize your brand (https://blog.hootsuite.com/social-media-for-business/)
For this reason, you should employ this way of self-promotion since social media provides immense potential for business. According to the research by Marketing Insider Group, 52% of social media marketers believe social media positively influences their company's revenue and sales.
In your email signatures social media icons impact not only your business potential but also improve the visual aspect of your signature. Vivid icons make your signature look fresh and attractive.
You should still be careful with what links you attach, since it's really important where they lead. You don't want your clients to visit dead social channels. This might definitely affect your business.
Conclusion
Be concise in terms of your details, include only relevant information
The design of your email signature is your key priority — keep it neat and simple
Professional impression can only be achieved by good quality of visuals — focus on the quality of images, logos, and banners
Enable engagement by means of CTA banners, social media icons, images